K-9 Armor
77 Van Ness Ave STE 101, San Francisco, CA 94102
Each K-9 Armor vest is made of the same material that protects two-legged members of law enforcement. We custom-fit each K-9 Armor vest so the bulletproof parts cover the vital organs.
K-9 Armor vests are made of
Type IIIA Kevlar®
and custom-fit to each dog, donated FREE to CA law enforcement dogs.
K-9 ARMOR accepts donations to give FREE
bulletproof vests to CA law enforcement
dogs
Donate here on Paypal
Help us raise $1400 for each new
K-9 ARMOR
vest we buy with your donations

Help us protect those who protect you!
Our Type IIIA protects against a .44, and 357 Magnum and 9mm. Type IIIA is better because Type II only protects up to a 9mm and 357 but not the 44 slug. All 2-legged officers receive Type IIIA, custom-fit as minimum standard, and the police dogs deserve the same protection!
Suzanne Saunders, K-9 Armor Co-Founder, Treasurer and Webdiva thanks Jason Worth, Former President of Banner Uniform for these K-9 Armor bulletproof vests cut from the same Kevlar© bulletproof cloth as their human partners, covering all the vital organs. Ask any K9 Handler, are you wearing Type III (3)? They will answer "yes," and if their K9 is wearing K-9 Armor, they wear the same level of protection,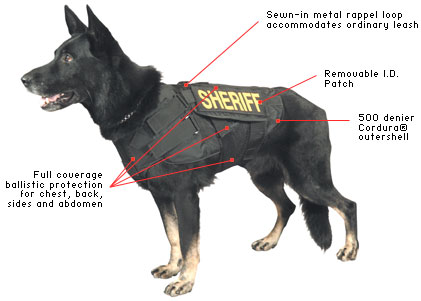 Thanks to Frank Skubal, Owner of Banner Uniform, distributors of Point Blank Body Armor for allowing us to purchase the KEVLAR® vests NIJ type IIIA, fitted to each dog including patches for their department, the vital organs all protected by three bulletproof panels. Thank you Banner Uniform and Point Blank Body Armor for helping us protect all the police dogs of California.
1. K-9 Armor promises 100 percent of your donations go only to bulletproof vests for police dogs, no other purpose.
2. K-9 Armor qualifies as the only California State Non-Profit Public Benefit Charity dedicated to bulletproof vests for police dogs. Public Benefit means we do not exclude, we charge no membership, and we are exempt from paying income tax to the IRS who sponsors us as the only Charity that means we receive no benefit and make no profit in protecting every law enforcement dog in California. Those who make a profit from the sale of the police dog at $10,000, to training the police dog another $10,000, to medical and food and supplies, membership required by K9 Associations and Trial entrance fees, when fundraisers profit they also pay over 30% income tax out of those donations.
3. K-9 Armor promises all our vests meet the Kevlar NIJ Standard .06 level Level III-A ballistic same standard as their handler.
4. K-9 Armor vests protect all the vital organs, made by Point Blank with three panels of type three Kevlar, to protect the tummy!
5. We believe all the police dogs deserve nothing less than their handler, nothing less than K-9 Armor!
Our Articles of Incorporation, allow you to sponsor a particular police dog for the cost of a whole vest to protect the police dog of your choice. Donations are applied to every law enforcement dog in California without exclusion, or preference we love them all and when you support K-9 Armor you can be proud we will protect all of them.
How to know if a Charity if legitimate? Check the Registry above on the California Attorney General site, search for K-9 Armor in Corporations.
This verifies our taxes are filed every year with the IRS and with the State of California and that we were incorporated on 07-08-09.
K-9 Armor is the official, California registered tax-deductible, non-profit public benefit charity approved by the California Secretary of State and Attorney General's Office, the Dept. of Justice, the CA Franchise Tax Board and Federal IRS 501(c)(3) tax-exempt status, for the purpose of raising public funds to supply bulletproof K-9 Armor vests to the brave, beautiful police dogs of California.
K-9 Armor accepts donations from the public to protect California law enforcement dogs. Every time we raise the cost of a vest we purchase a Kevlar K-9 Armor vest and give it FREE to another California law enforcement dog. Most police departments and law enforcement agencies do not budget for bulletproof vests for their K-9's. Every two-legged officer and member of law enforcement who carries a gun, automatically receives a bulletproof vest and we believe their four-legged partners deserve the same protection. These brave, beautiful dogs risk their lives to protect us, help us protect them with your tax-deductible donations.
K-9 Armor started in September 2003 partnering with the Marin County Sheriff's Office until 2009 when we ended our partnership, and with their encouragement and guidance, obtained the honorable status of State Charity.
July 8, 2009 , we obtained the 501(c)(3) status as a Non Profit Public Benefit Charity for the State of California, protecting California Law Enforcement Canines with Bulletproof Vests, relying on donations to K-9 Armor.
K-9 Armor stands alone, as the sole Non Profit Public Benefit Charity that donates 100 percent of our time and funds only to bulletproof vests for every law enforcement dog in California.
The current K-9 Armor Board of Directors:

President Deputy Daniel Marrett is a retired Federal ATF (Alcohol Tobacco and Firearms) and Marin County Sheriff K-9 Handler, with over 20 years of experience. His first K9 Verona, received the first K9 Armor vest in 2004 and he became our president in 2009 when we had five years of tax returns to become a 501(c)(3) public benefit charity.

Vice President Sgt. Mike Crain of the Marin County Sheriff's Dept. in San Rafael, CA. Sgt Crain is retired, he was also leader of the Joint Task Force on Terrorism for the Bay Area. Formerly Master K9 Sergeant for all Marin County K9 Units and in charge of Professional Conduct, we are honored to have his support.

Co-Founder, Secretary and Treasurer, and Webdiva, Suzanne Saunders serves as a volunteer Marin County EMT (Emergency Medical Technician) with the Medical Reserve Corps and Veterinary Liaison and volunteers as a Hands-Only CPR Instructor. Suzanne is our Facebook admin and web site administrator for K9 Armor. Suzanne is also Treasurer and submits the tax returns every year to the California Secretary of State and Francise Tax Board and the IRS.

Contact Suzanne on Suzanne's personal facebook page

Suzanne Saunders at California Animal Emergency Response System training at UC Davis Memorial to fallen K-9 police dogs. Suzanne is trained in emergency medicine for people and additional training for people with Access and Functional Needs and their Service Animals as well as Livestock and Animal Rescue.

All board members volunteer our time and we do not pay ourselves. All donations are 100 percent directed toward purchase of K-9 Armor vests.

Thanks also to Deputy Karen Wofford (ret) for helping direct our web site format and providing a link from the Marin County Deputy Sheriff's Association web site and helping direct us how to acheive our own 501(c)(3) for our tax-deductible status.


Board Members and Co-Founders Sgt Mike Crain (ret) and Suzanne Saunders, EMT with former Board Member and one of the original Co-Founders of K-9 Armor and instructor for DARE to all the Marin County School kids, Deputy Evan Hughes, seen here in 2004 at the Marin County Fair.


K-9 Armor President, Federal ATF K9 Unit and Marin County K9 Team (ret) Deputy Marrett and Verona, who received the first K-9 Armor vest in 2004.
Our costs include the vest plus 9% sales tax and if donated online includes the 2.5% paypal fee. All vests are custom made measured in person. Cost includes shipping approx $50, some vests are delivered in person as we cover the whole state. We publish the actual receipts on our Sponsors page to show your donations are dedicated to each vest. We receive an incredible discount off the $1750 retail price (plus tax) listed by the manufacturer.
Banner Uniform Police Supply in San Francisco supplies these Kevlar vests to us from Point Blank Body Armor in Florida, for this incredible cost because they believe in our cause. We are the only public benefit charity dedicated only to providing free bulletproof vests without any exclusions, to all law enforcement dogs in California and 100 percent of the cost is covered by public donations.
Protect those who risk their lives to protect you,
with K-9 Armor!
K-9 ARMOR
77 Van Ness Ave STE 101, San Francisco, CA 94102
For information, send email to
citizenk9@k-9armor.com