K-9 ARMOR® dual Spike and Ballistic vests made of Kevlar®
K-9 ARMOR® has a registered trademark as a charity with the purpose of giving bulletproof vests to California police dogs. We don't make the vest, we buy the best vest for the best cost to offer the Officers a vest worth over $2000 retail at no cost, thanks to donations by the public.
We promise our vests are custom-made in the USA of the same material as their human partner certified by the NIJ (National Institute of Justice). Custom-fit for maximum mobility as you can see demonstrated by our Vice President, Corporal Jeffrey Hurd and Riverside Sheriff K9 Yanik wearing his K-9 ARMOR vest.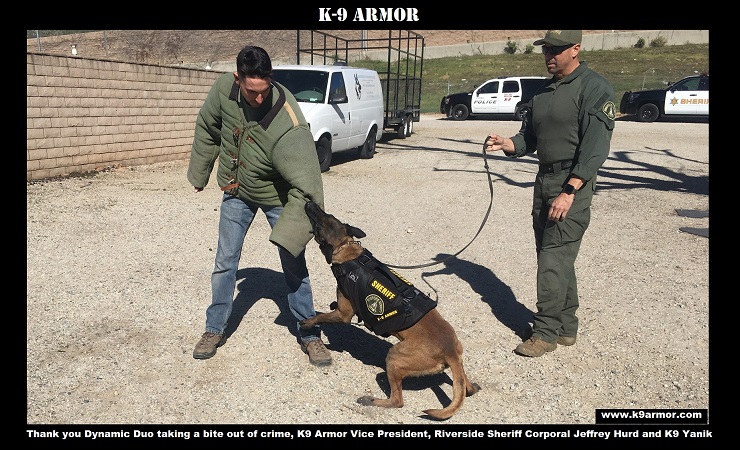 K9 Tactical Gear
Thank you Susan and Bill Forbes, Owners of K9 Tactical Gear for giving us such a great discount to help us give the most vests. Their amazing design of stab and bulletproof Level 2 panels allows the K9 to wear for long periods. Made of Kevlar® all our K-9 Armor® vests are made to NIJ (National Institute of Justice) standard for police officers, fitted to each dog including patches for their department. The vital organs are all protected by six spikeproof and bulletproof panels making the total level of protection Level 4 in each section over each of the vital organs.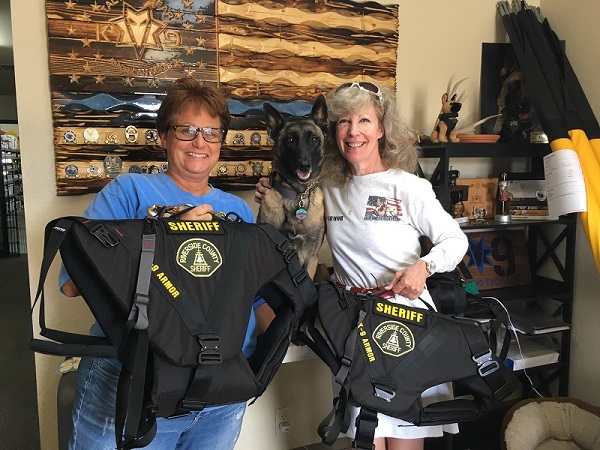 Hugs from Susan Forbes owner of K9 Tactical Gear with K9 Yeti and K9 Armor cofounder Suzanne Saunders

They lowered the price from retail $2000 to $1600 plus tax as a special charity price for us and includes the giant spreader hook for lowering from a helicopter.
Our bulletproof vests are made from the same Kevlar® bulletproof material as their human partners, covering all the vital organs. Ask any K9 Handler in California, are you wearing Kevlar®?
They will answer "yes," and if their K9 is wearing K-9 Armor®, they wear the same level of protection.
1. K-9 Armor promises 100 percent of your tax-deductible donations go only to bulletproof k9 vests for police dogs, no other purpose.
2. K-9 Armor qualifies as the only California State Non-Profit Public Benefit Charity 501(c)(3) dedicated to bulletproof vests for police dogs. Public Benefit means we do not exclude, we do not require membership.
We receive no benefit and make no profit in protecting every law enforcement dog in California. Those who make a profit from K9's include the sale of the police dog at $10,000, to training the police dog another $10,000, to specially-cooled vehicles over $10,000, medical care and food and supplies. Some organizations exclude anyone outside of membership required by K9 Associations. We thank many of the K9 Associations on our Sponsors page who brought people to us, so we could protect their K9 Heroes.
3. K-9 Armor promises all our vests meet the NIJ (National Institute of Justice) Standard for stab and ballistic vests. This is the same standard as their handler as mandated by the Agency that oversees the standard for all law enforcement in the United States.
4. K-9 Armor vests protect all the vital organs, made by K9 Tactical Gear in Rocklin, California with six panels of Kevlar®.
5. We believe all the police dogs deserve nothing less than their handler, nothing less than K-9 Armor.
Our Articles of Incorporation, allow you to sponsor a particular police dog for the cost of a whole vest to protect the police dog of your choice. Donations are applied to every law enforcement dog in California without exclusion, or preference we love them all and when you support K-9 Armor you can be proud we will protect all of them.
How to know if a Charity if legitimate? Check the Registry above on the California Attorney General site, search for K-9 Armor in Corporations
This verifies our taxes are filed every year with the IRS and with the State of California and that we were incorporated on 07-08-09 (July 8, 2009).
K-9 Armor is the official, California registered tax-deductible, non-profit public benefit charity approved by the California Secretary of State and Attorney General's Office, the Dept. of Justice, the CA Franchise Tax Board and Federal IRS 501(c)(3) tax-exempt status, for the purpose of raising public funds to supply bulletproof K-9 Armor vests to the brave, beautiful police dogs of California.
K-9 Armor accepts donations from the public to protect California law enforcement dogs. Every time we raise the cost of a vest we purchase a Kevlar® K-9 ARMOR® vest and give this vest free to another California law enforcement dog. Most police departments and law enforcement agencies do not budget for bulletproof vests for their K-9's. Every two-legged Officer and member of law enforcement who carries a gun, receives a bulletproof vest and we believe their four-legged partners deserve the same protection. These brave, beautiful dogs risk their lives to protect us, help us protect them with your tax-deductible donations.
K-9 Armor started in September 2003 partnering with the Marin County Sheriff's Office until 2009 when we ended our partnership, and with their encouragement and guidance, obtained the honorable status of State Charity.
July 8, 2009 (7/8/9), we obtained the 501(c)(3) status as a Non Profit Public Benefit Charity for the State of California, protecting California Law Enforcement Canines with Bulletproof K9 Vests, relying on donations to K-9 Armor.
K-9 Armor stands alone, as the sole Non Profit Public Benefit Charity that donates 100 percent of our time and funds only to bulletproof vests for every law enforcement dog in California. The IRS explains it, they don't like to approve multiple charities in the same place raising money for the same thing. One of the questions on their Application wants to know if there is a Charity already performing the work you propose, why exactly can't you work with the existing organization instead of taking funds away from those who depend on Charity?
The current K-9 Armor Board of Directors

K-9 Armor President, ATF Explosives Detection K9 Handler and Marin County Sheriff Deputy Daniel Marrett (ret)


K-9 Armor President Deputy Daniel Marrett is a retired Federal ATF (Alcohol Tobacco and Firearms) Explosives Detection K9 Handler and Marin County Sheriff K-9 Handler, with over 30 years of experience including leading the Sheriff's Gang Task Force. His K9 Verona received the first K-9 Armor vest in 2004 and he became our president in 2009 when we had five years of tax returns to become a 501(c)(3) public benefit charity. His leadership has protected over 150 California K9 Heroes.

K9 Armor Vice President, Riverside County Sheriff Corporal Jeff Hurd


K-9 Armor Vice President, Riverside County Sheriff Corporal Jeffrey Hurd, former RSO K9 Association President and current Judge for the RSO and Las Vegas Metro PD national K9 Trials. Jeff worked with his former partner K9 Baron from 2009 before patrolling the City of San Jacinto with his partner K9 Yanik to 2021. After years of inviting us to their K9 Trials since 2014, we are honored Jeff accepted the role as Vice President of K-9 Armor in 2019 and we are honored for his support in protecting the brave Riverside K9 Heroes in loving memory of San Jacinto PD K9 Sultan, killed in action 01-21-2015. Read about Sultan's sacrifice on our Memorials Page.

K-9 Armor Cofounder, Secretary, Treasurer and Webdiva, Suzanne Saunders


K-9 Armor Cofounder, Secretary, Treasurer and Webdiva, Suzanne Saunders, has served as a volunteer EMT (Emergency Medical Technician) with the Medical Reserve Corps and Hands-Only CPR Instructor since 2007. Suzanne is the only full-time member of the board, dedicated to K-9 Armor. 20 years of experience as IT Specialist at ComputerLand, Autodesk and Wells Fargo Bank, she brings project management, web design, internet security and service delivery manager skills to managing our web site, donations, and sponsor relationships. A California native, she loves police dogs and is devoted to protecting the K9 Heroes who protect us. Suzanne is our web site administrator for K9Armor.com and Facebook admin www.facebook.com/k9armor and Instagram, www.instagram.com/k9armor. Suzanne is also Treasurer and submits the tax returns every year to the California Secretary of State, Office of Attorney General and Francise Tax Board and the IRS. Contact Suzanne on Suzanne's personal facebook page or on LinkedIn.

K-9 Armor Board Member Anaheim PD Officer Brett Klevos


K-9 Armor Board Member Anaheim PD Officer Brett Klevos, former President of the Orange County Police Canine Association. Brett is an Anaheim Police Officer with his partner K9 Leo who received his K-9 Armor vest in 2018. Brett is responsible for six Anaheim PD K9 Heroes and is currently Director of OCPCA, overseeing 60 police dogs and Military Working Dogs in Orange County. Brett accepted a position on the K-9 Armor board in 2019, after inviting us to their K9 Benefit Show since 2011. Pictured above Officer Brett Klevos with Anaheim PD K9 Kylo doing a demo for kids at Anaheim Albert Schweitzer Elementary who raised funds to give 2 K9 Armor vests.

All donations are 100 percent directed toward purchase of K-9 Armor vests.

Thanks also to Deputy Karen Wofford (ret) for helping direct our web site format and providing a link from the Marin County Deputy Sheriff's Association web site and helping direct us how to acheive our own 501(c)(3) for our tax-deductible status.


Original Co-Founders, Marin County Sheriff Sgt Mike Crain (ret) and Suzanne Saunders, EMT with instructor for DARE to all the Marin County School kids, Deputy Evan Hughes, seen here in 2004 at the Marin County Fair.



Our costs include the vest plus sales tax and if donated online includes the 2.5% Paypal fee. All vests are custom made, measured in person. Cost includes shipping approx $50, some vests are delivered in person as we cover the whole state. We publish the actual receipts on our Sponsors page to show your donations are dedicated to each vest. We receive an incredible discount off the $1800 retail price plus tax listed by the manufacturers.
K9 Tactical Gear in Rocklin, CA make these Kevlar vests for an incredible cost below retail, because they believe in our cause. We are the only public benefit charity dedicated only to providing free bulletproof vests without any exclusions, to all law enforcement dogs for all of California and 100 percent of the cost is covered by public donations.
Protect those who lay down their lives to protect us
K-9 ARMOR
77 Van Ness Ave STE 101, San Francisco, CA 94102
For information, send email to
k9armor@gmail.com