K-9 Armor News

KCRA TV Ch3 News Clip K9 Armor for Stanislaus Sheriff K9 Sam. Photo and video by KCRA Ch3 Modesto.
Sponsor a K9 Hero and choose which K9 to protect.
We have given over 160 vests to California K9 Heroes and need donations to protect over 50 police dogs waiting for a sponsor.
Look to our Sponsors page for a history of angels who donated to protect our K9 Heroes with K9 Armor.
December 15, 2021 thank you Brian Rokos for publishing an article in the Press Enterprise and to CBS for covering our presentation to SAPD.
We delivered vests to Santa Ana Police K9 Heroes Baldur and Rik and Kuno. A sponsor who saw Brian's article donated to cover K9 Rosie!
December 20, 2021 Thank you Riverside County News Source for covering our presentation to Police and Sheriff K9 Heroes
Read the RCNS Article on K9 Armor for Riverside K9 Heroes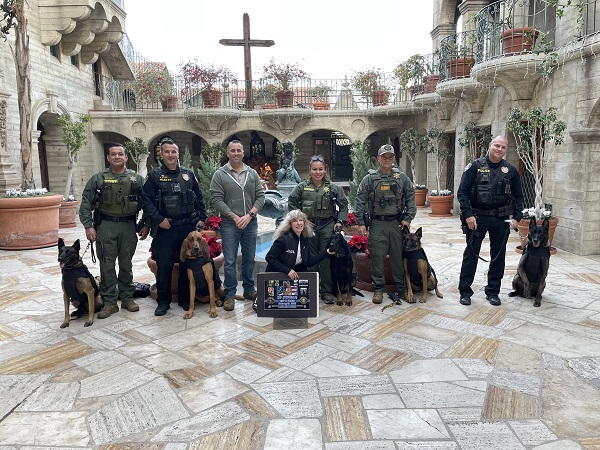 April 18, 2018 we appeared in the Daily Bulletin for donating five vests to Ontario Police thanks to Lynn and Larry Hornbeck of Ontario.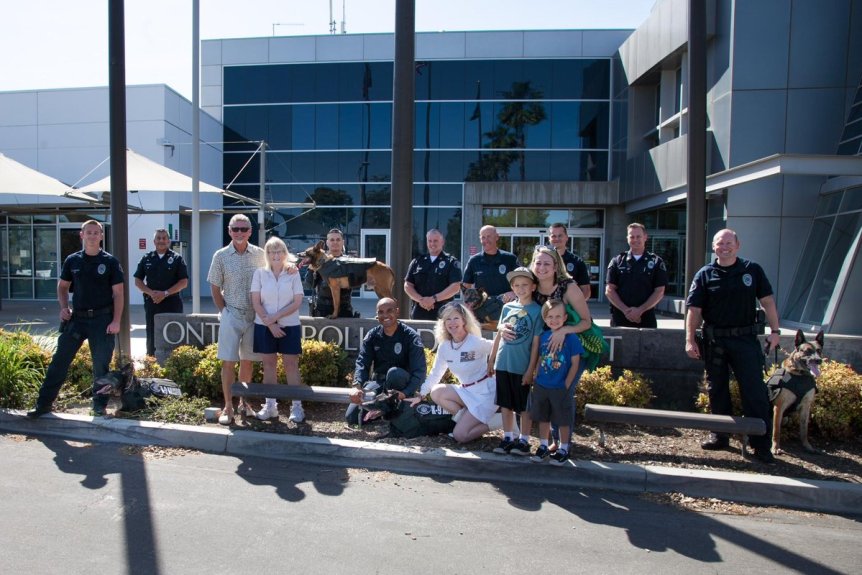 August 17, 2016 Thank you Tony Landucci for an outstanding Windsor Times Article about Scott and Paula Rymer of Windsor sponsoring Sonoma Sheriff K9 Scout.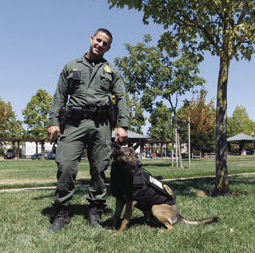 Sonoma Sheriff Deputy Negri and K9 Scout
March 28, 2016 Thank you Gina Clugston for your beautiful Sierra News Article about the amazing dogs of Mariposa Sheriff K9 Arthur and Zeus and a great picture of their K9 Armor vest in this article.

Mariposa Sheriff Deputy-Brian-Lunquist-with-K9-partner-Arthur-and-Deputy-Charman-with-K9-partner-Zeus-photo-by-Gina-Clugston
February 11, 2015 Thank you Brian Rokos for your excellent Press Enterprise Article covering K9 Armor protecting seven local K9 Heroes in loving memory of Riverside Sheriff K9 Sultan, EOW 01-21-2015.

K9 Armor cofounder Suzanne Saunders donating vests to Riverside PD Officer Darrell Hill for K9 Noran and on the right, Hemet PD Officer Matthew Gomez for K9 Jack. Pictures by Brian Rokos for the Press Enterprise, click the pictures to open the article.
June 6th, 2012 Police K-9 Magazine featured K-9 Armor for Modesto Stanislaus County Sheriff K9 Sam.
June 2012 Modesto Bee article K-9 Armor for Riverside PD K9 Sam.
June 2012 K-9 Armor was featured in Suzanne Lavallee's Newsletter "Spoiled Bitch."

Click to MEET - St Helena PD Officer Steve Peterson and K9 Djino
May 30, 2012 Click to see KCRA article K-9 Armor for Stanislaus County Sheriff K9 Sam.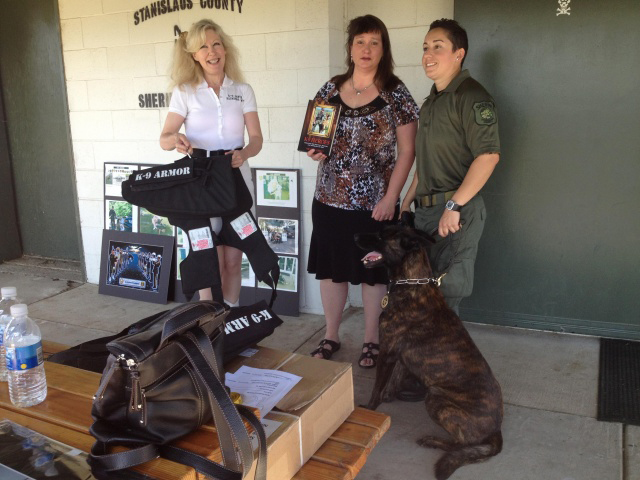 Suzanne Saunders holds the K9 Armor bulletproof vest for Stanislaus County Sheriff K-9 Sam. Nicole Arbelo holds her book K9 Heroes, her facebook fans helped raise the money to purchase the vest for K9 Sam, held by Deputy Marcia Matos. Photo and video by KCRA Ch3 Modesto.
April 12, 2012 Stanislaus County Sheriff's Deputy Robert Paris was shot and killed while serving a warrant. Nicole Arbelo made a Wish on Facebook and raised $875 to provide a bulletproof K9 Armor vest to Stanislaus County Sheriff K9 Sam.
March 2012 Watch our premiere video and download the song, many thanks to the creator of this film made by Nicole Arbelo, author of the best-selling book "K9 Heroes" with an original song "I Carry You in My Heart" written and performed by K9 Armor Co-Founder, Suzanne Saunders. 100% of the profit from downloading the song goes to K-9 Armor to give bulletproof vests to the those who lay down their lives to protect us.
Click here to download the iTune Single - I Carry You in My Heart by K9 Armor:
Click to download the iTune Single - I Carry You in My Heart by K9 Armor
Click below to download the Ringtone on iTunes Store:
or Click below for the Amazon MP3 of the Single - I Carry You in My Heart by K9 Armor:
January 2012 K-9 Armor appears in a video made by Nicole Arbelo, author of K9 Heroes. Watch this moving tribute to Police and Military Purple Heart K9 Teams and K-9 Armor. We are humbled by such company and ask your help making our dream come true, a bulletproof K9 Armor vest on every police dog.
December 2011 K-9 Armor is proud to protect St Helena PD K9 Djino (pronounced Chino) and Officer Peterson. Thanks to Dr Gold of St Helena Veterinary Hospital for sponsoring Djino!
October 2011 many thanks to San Francisco Animal Care and Control, Animal COPS San Francisco for Pet Pride Day on October 30th where we took in $27 and helped Animal Control raise a great deal more sharing the wealth and helped raise donations for over 50 animal charities!
October 2011 Orange County Police Canine Association annual OCPCA K9 Demo in Anaheim on October 15. Thanks to generous sponsors Mike and Krista Pennington of Foothill Ranch who donated to www.k9armor.com to protect Huntington Beach PD K9 Xavi and Anaheim PD K9 Cisko and two more police dogs of Orange County.
September 2011 We received donations of $110 at Bark in the Park, San Jose and a generous donation to sponsor a whole vest by Dr Gold of St Helena Veterinary Hospital for K9 Djino.
September 2011 Deerfield Ranch Winery hosted a charity fundraiser for K9 Armor and Guide Dogs for the Blind, where we received donations of $70 and added St Helena PD K9 Djino.
August 2011 We attended Sonoma County Sheriff K9 Trials and added their K9 Karl and attended Petaluma PD K9 Trials and raised $110 at each event.
July 14, 2011 We received donations for Richmond PD K9 Ranger and for their next K9 and for San Pablo PD K9 Tango from the generous readers who saw K-9 Armor's interview by Suzanne Lavalee of SB Newsletter, watch for links and thanks on our Sponsors page.
March 11, 2011 El Cerrito Patch read the terrific article about El Cerrito PD K9 King!

We presented a bulletproof vest to Richmond PD K9 Rasp, thanks to a donation of $750 by Chris and Karen Tallerico in memory of his best friend, fallen Richmond PD K9 Officer Brad Moody.
A donation of $3000 by Jeffrey Mullins to purchase four more bulletproof K-9 Armor vests for Richmond and Oakland!
A donation of $1750 by Mike and Krista Pennington to cover two police dogs of Orange County.
Local residents Ginger Cava with friends and family and California Search and Rescue Dog Association made it possible with donations to protect three more beautiful dogs for Richmond, El Cerrito and San Pablo PD.
Donations by generous people added to our Sponsors Page allow us to thank them on our web site.
1. K-9 Armor promises 100 percent of your donations go only to bulletproof vests for police dogs, no other purpose.
2. K-9 Armor qualifies as the only California State Non Profit Public Benefit Charity dedicated to bulletproof vests for police dogs. Public Benefit means we do not exclude, we charge no membership, and we are exempt from paying income tax to the IRS who sponsors us as the only Charity that means we receive no benefit and make no profit in protecting every law enforcement dog in California. Those who make a profit from the sale of the police dog at $10,000, to training the police dog another $10,000, to medical and food and supplies, membership fees for K9 Associations and Trial entrance fees, when fundraisers profit they also pay over 30% income tax out of those donations.
3. K-9 Armor promises all our vests meet the same Kevlar NIJ Standard .06 level Type IIIA as their handler.
4. K-9 Armor vests protect all the vital organs, made by Point Blank with three panels of Level IIIA Kevlar, the third panel is to protect the tummy!
Other vests are missing the underbelly Kevlar panel, they have mesh underneath and the Kevlar is out of date Level II. The minimum standard for the K9 Officers is Level IIIA.
5. We believe all the police dogs deserve the same standard as their handler, nothing less than K-9 Armor!
Help us spread the word through articles, facebook and encourage donations to protect those who lay down their lives to protect us!
Visit www.k-9armor.com and our www.facebook.com/k9armor page for pictures and to donate to save these beautiful police dogs!