Donate by clicking the PayPal button or
write a check made out to K-9 Armor
and mail to
K-9 Armor, 77 Van Ness Ave STE 101, San Francisco, CA 94102

Shop - Sell - Donate
Click the eBay GivingWorks logo to help us raise cash for police canines! This is your chance to help us protect those who lay down their lives to protect us.
eBay Community Sellers list their products in the GivingWorks section of the eBay web site where part of the profits benefit tax-deductible charities including K-9 Armor. Donate a portion of your sales and attract more customers with the special charity ribbon logo. eBay requires proof of IRS and State and Federal tax-exempt status to protect you as a seller and as a donor. List something you've been meaning to get rid of, donate a portion of the profit to K-9 Armor, everybody wins.
Thank you Nicole Arbelo, best-selling author of K9 Heroes, for this film featuring the first 20 police dogs protected with K9 Armor bulletproof vests.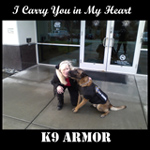 If you want to show your support for these beautiful police dogs, please download the song for .99 cents, dedicated to the K9 Heroes we love! 100% of the profit we receive goes to K9 Armor to give another bulletproof vest.
Click to download the iTune Single - I Carry You in My Heart by K9 Armor
Click below to download the Ringtone:
or Click below for the Amazon MP3:
Friends donated as their birthday present at the request of Pamela Roossin, co-owner of OC Guns. Thanks to donations of over $900 we protected Westminster PD K9 Pako.
Come by their store to see their selection and support them collecting donations to support your local K9 Heroes.